Want to Backup Google chrome. Want to backup Google chrome bookmarks. Want to backup chrome history. Want to backup chrome settings. With simple steps you can take backup of entire google chrome. Here i am giving you simple and very easy  method  to back up and restore google chrome.
You all know that Google chrome is one of the fastest browser. If you follow some tips given in the article 100% working tips to increase Google chrome speed, you can further increase Google chrome speed.
How to Backup Google chrome and Restore completely
Method 1:Backup Google chrome completely
In this method, I am going to show you how you can back up entire data of Google chrome which includes bookmarks, settings, history and every thing.
Go to start button
Type" run" in search program  and files option and select run option.
 3.Type %LOCALAPPDATA
4.Click ok
   5.Select Google option
  6.Select chrome
7.Select user data
  8.Select "default " folder and copy this folder and paste in any other safe place.
Restore  Google Chrome
You can restore Google chrome with previous name or you can restore with new name. If you want to restore with new name, rename Default folder with any other name. For ex:- New_Default
Just reinstall chrome it will also create folder with name Default. You need to replace this folder with backed up folder (Ex:- New_Default or with previous Default folder). Now you have your extensions,Bookmarks, Settings and everything.
Method 2: Backup Google chrome Bookmarks
In this methods you will learn how to backup chrome bookmarks and restore.
1.Go to customize and control google chrome button.
2.Select Book mark.
3. Select Book mark manager.
4.Click Organize at top. Then click Export bookmarks to HTML file .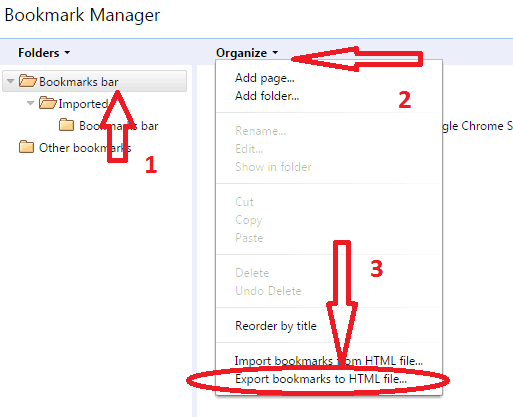 5. You can save this file any where in computer or in USB drives. You can also change this file name.
6. Open new chrome browser to which you want to import bookmarks. Go to Bookmark manager. Go to Organize. Click on Import bookmarks to HTML file.
7.If you had save file in USB, insert it. And select HTML file in USB and click on Open.
Method 3 : Backup Entire Chrome Settings with Sign In
When you sing in to Google chrome with your Gmail account. It will automatically backup your entire settings to your mail account.
If you login in to Google chrome in any other computer, you will see all your settings, extensions and everything in that computer.
You will see option in top right corner to sign in to Google chrome.
Thanks for reading my article about How to Backup Google chrome and Restore completely. Please share it with your friends and family. Want more tips Subscribe to our newsletter. You may also follow us on  Facebook,  G+ and Twitter.