Get the details about Adobe reader Vs Adobe Acrobat DC. We've all heard about Adobe, most of us in passing just as an app that came pre-installed on our PCs or more recently our smartphones. Well if you didn't know much about it, you are in luck up because this article aimed at deciphering two products from the Adobe Systems stables which are the Adobe reader and the Adobe Acrobat DC.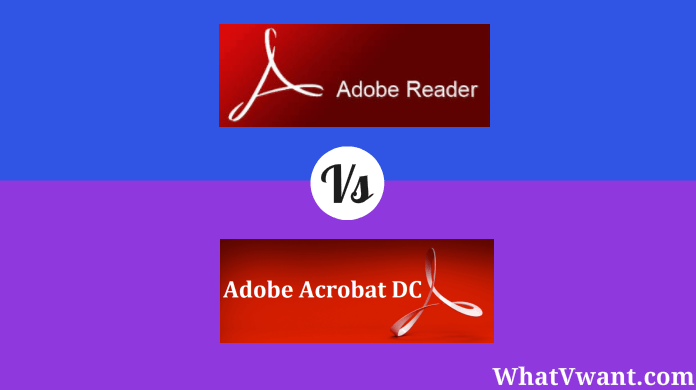 We'll be taking a look at what the Adobe Reader and Adobe Acrobat DC apps are all about, and their similarities and difference shall also be reviewed.
What is Adobe reader?
Adobe Reader is free software that was created by a tech company known as Adobe Systems. It is a PDF (Portable Document File) reader, i.e., it is used to read PDF files such as images, text documents, books, etc. Furthermore, it is a cross-platform application in the sense that it's appearances and features are the same on both Windows and Mac platforms.
Note that it cannot create PDFs. It can only open them and perform some other minor functions which shall be stated as we go.. This leads us to the next item, Adobe Acrobat DC.
What is Adobe Acrobat DC?
Adobe Acrobat DC is a premium app unlike the former(Adobe reader). It is sometimes regarded as the gold standard regarding curing and working with PDFs. It uses include but is not restricted to creating, editing, exporting, compressing, converting and signing PDFs. The DC stands for Document Cloud which means users now have the option of uploading important documents to Online storage(Cloud) for safekeeping. You can use this app on all devices like desktop, mobile, and web. Read More details about Adobe Acrobat DC.
It has different plans for Individuals and Business. Basic plans are divided as Standard and PRO
Check Adobe Acrobat DC Plans, Features and Pricing
Time to time Adobe runs promotional offers. You can check WhatVwant's Adobe discount coupon page for the latest offers before buying any Adobe product.
Adobe Reader Vs Adobe Acrobat DC
Similarities
They are both PDF viewing apps, the Adobe reader has limited functionality though. It can view, print PDFs but that's almost as far as it goes, the Adobe Acrobat DC can create, edit, export, organize, etc. PDFs, and it has the added functionality of a Document Cloud.
Differences
The apps are similar in that they can both be used to view PDF files, but as stated above that's almost as far as the similarities go. First off, the adobe reader is a desktop app, e.g., Windows, Mac, etc. while the Adobe Acrobat DC app is a mobile app ios and Apple. The Adobe Acrobat DC can also do much more than view PDF files, as stated previously it can edit, create, export, sign PDFs, etc. It also includes a Document Cloud which the Adobe reader does not possess. In closing the Adobe, Acrobat DC is a well-rounded PDF mobile app and the Adobe reader is a good PDF app which can carry out the basic functions a PDF app should be able to. Also, the Adobe reader is a free app, i.e., users can get it for free. On the other hand, the Adobe Acrobat DC is a paid for the app, i.e., users have to pay a certain amount for it.
Adobe Acrobat DC Alternatives
Acrobat DC is a subscription-based system. For those who don't want to pay monthly charges and want to get the complete Acrobat features, I suggest you Wondershare PDFelement which is the cheap and best alternative to Acrobat DC. It is one-time purchase software. Just pay once and use the software for lifetime. You can also read our complete review of Wondershare PDFelement. WhatVwant readers get special discount on Wondershare PDFelement through this discounted link.
There are many PDF Editor software available on the market.
Conclusion
In the end, the Adobe Reader is an app for the average Joes who hair want to be able to view their PDFs without any hassle or stress and don't need much functionality. The Adobe Acrobat DC, on the other hand, is an app for consummate professionals who might need more functionality regarding the way they can edit and rejig their PDFs.
Click Here to Try Adobe Acrobat DC 7 Days Free Trial
When you don't want to pay monthly charges, then only go with the best Adobe Acrobat Alternative Wondershare PDFelement.
I hope you like my article about Adobe reader vs Adobe Acrobat DC, If you like it, do me a favor by sharing it with your friends. Please follow whatvwant on Facebook, Google+ and Twitter.