Here is the list of Best Cloud Backup Services. Important data needs to be taken care else we get in to troubles. This is known to many of us, but the real question is to what extent we are keeping it safe? Storing data in external devices, hard disks or in any device does not guarantee the availability of such important data. So, there should be a way to store this data seamlessly at one place where there is no chance of losing it whatever may be the situation. Isn't it cool? I will let you know about 7 best Cloud Backup Services to use to back up each and everything you want.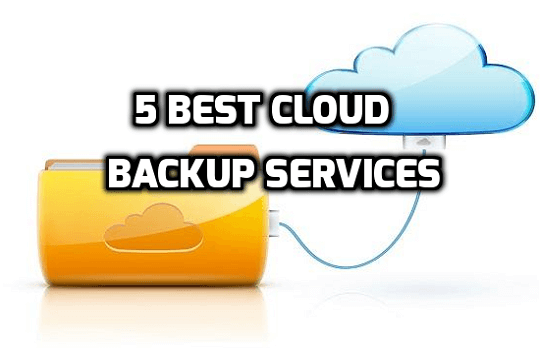 Best 7 Cloud Backup Services
Saving data is the most important thing to do. It might be data of your mobile or desktop, we should save our data from any crash happen to our smart device and desktop. In this article, I will introduce you 5 Best cloud backup services or online backup services to use.

1. Carbonite
 Carbonite is one of the best cloud based backup services as it runs in the background of backing up your data. This is very helpful and no problem whatever crash happen to your computer. It works well with your mobile, Windows and MAC desktops. Automatically, it will backup your music, documents, email and many things. It allows easy recovery of your data even. Backed up data can be accessed easily through your smart phone. All plans of Carbonite give you unlimited storage.
You can give a try free version of Carbonite for 15 days and if you want to go ahead then you can choose Home Plan for $60 per year to back up one computer, Home Plus plan for $100 per year to back up one computer and Home Premium Plan for $150 per year to back up one computer.
Can I get Discount?
Yes. For limited time they are running 30% discount with multi year plans. You can buy personnel or business plans, You will get 30% discount through below link.
2. iDrive
iDrive is really unique and one of the best cloud based backup services. You can back up all your files and folders to it's online storage same as other cloud based services, but the unique things in iDrive is that, you can share the backup up files and folders with others. You can even upload all your photos and videos to Facebook directly. Deleted file or folder in your cloud storage can be brought back within 30 days. This is really an interesting feature. It follows incremental backups, so you can have the 30 versions of the same file and it is very helpful when you want to use the older version of the file. It restores the data without any problem and works well with Windows, Linux and MAC Desktops. It is available as an app for Windows, Android and iOS.
iDrive is the best cloud backup service and it secures your backed up data. Using your iDrive account, you can access your backed up data from any computer. There are many features of iDrive which makes it the best cloud backup storage service. All files and folders of your devices using iDrive will be in sync. Pricing options for iDrive will be like free version of 5 GB storage, iDrive Personal of 1 TB online storage space at $44 per year and iDrive Business of 250 GB online storage space at $74 per year.
Can I get iDrive Discount Coupon
Yes. For limited time iDrive offering 75% discount through below link.
3.Bullguard
Bullguard is a well known brand in antivirus industry. They are also offering cloud backup service. You can backup your data to local drive for free of cost. It can even backup outlook and windows live mail accounts. You can download faster by using this backup service. Bullguard automatically backs up your files when you change them. It will encrypt your data while transferring from your PC to Bullguard server. You can setup passwords to your backups. You can also use their 5GB one month free trial.
Downside of bullguard is, it is some what pricey. There is no unlimited data backup plans. You need to take separate plan for mobile backup. Cloud backup price starts from $24.95 for 10GB plan.
Can I get Bullguard Backup discount?
4.Norton Backup
Norton backup is one of the best antivirus brand. Norton is also providing online backup service. They provide 25GB backup storage. You can take backup up to five devices. You can even restore older versions of files. They provide government standard encryption. You can backup your Windows as well as Mac devices.
It has no unlimited plan. No mobile apps.If you buy norton security. Price is $49.99 for one year plan.
Can I get Norton backup Discount coupon?
At present there is not discount coupon for Norton backup. But $40 offer on Norton security premium. You will get norton backup as part in Norton security premium. With $40  offer it will cost only $49.99. That means for the price of Norton backup, you will get security as well as backup. Remember it is a limited time offer.
5. Backblaze
Backblaze allows you to back up everything like music, documents and more. By default it will backup files or folders less than 4GB and rest can also be backed up if you want. You can manually trigger the back up as and when you want or you can schedule the backup at regular intervals of time. It works with Windows and MAC Desktops and backed up data is encrypted, so that only you have the access to your data. Restoring of data is very easy and there are many other features of Backblaze.
Pricing of Backblaze cloud backup storage is like $5 per month for one computer and if you want to add more computers to the same account, then you need to pay more $5/per month. You will get unlimited data backup for one computer only for $50.
(15 Days Free Trial Link)
6. SpiderOak
SpiderOak is said to be one of the best cloud backup services in terms of privacy. It provides cloud backup desktop client which allows you to back up your files, folders, music, documents, emails, videos, movies including your network drives and external hard drives. You can prefer scheduled backups or manual backups and backed up data is encrypted and you can only access it. Whenever your data is backing up, you can see the preview of the space taken by your file or folder and the space you are left with. It works with Windows, Linux and MAC Desktops.
It is available as Android and iOS apps. You can find the archive of deselected files in your SpiderOak account during the backup process. This cloud server backup service has many features and will give you 2 GB for free for signing in up and 10 GB for free if you refer a friend. SpiderOak pricing will be like 100 GB free cloud back up storage at $10 per month and it is not restricted to only one computer.
7. CrashPlan
CrashPlan is said to be the best cloud backup service as it allows you to back up required folders, files or even a drive as well. You can specify at what regular intervals of time, backup should happen. It provides you facility to back up your data to an external hard drive or a computer in a network or to the cloud (CrashPlan servers). It works with Windows and MAC Desktops and restoring the data is just a few clicks away. You can access the backed up data using your smart mobile. You can specify the multiple destinations for back up and back up happens in the incremental way.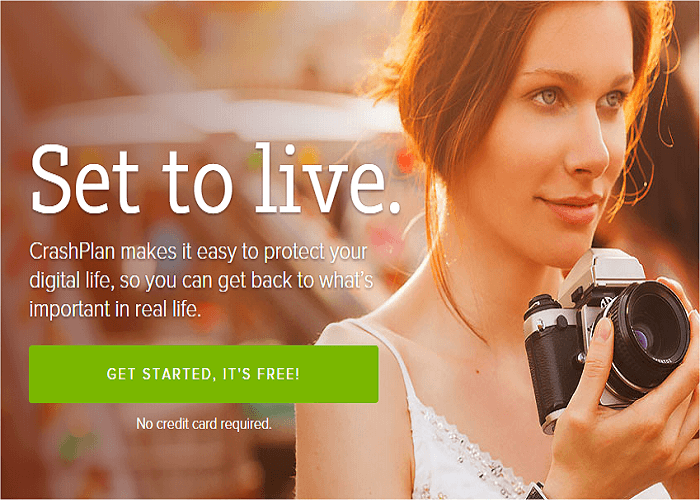 You can use the free version of CrashPlan for 30 days which allows you for only local backups and you can go for premium versions like online backup storage of 10 GB for one computer at $2 per month, unlimited online storage for one computer at $4 per month to unlimited storage for entire house at $9 per month. Apart from these, there are many more plans and features of CrashPlan are available.
 Are you planning to back up your data? These are the 7 best cloud backup services you need to use. If you have anything to add, please do share with us through comments.