Want to use the Best PDF editor software. There are so many free and paid PDF editor softwares. Free software never give you complete features. When you want all PDF editing features, you need to go for premium software. This tutorial gives you the list of Best PDF editor premium Softwares.
When it comes to online, Transfer of data can be processed in many forms.For example, data can be enclosed within the files to be delivered.PDF is one of the best and most used ways to transfer our documents online.Yes, there are many methods and file formats outside the market but still we have to throw some light on the PDF for the following reasons and by the way now, I am going to make you know about the top PDF editors.
What is PDF?
PDF is the abbreviated form of Portable Document format.The best part of the PDF's is there is no need to invest a single penny to read or access the online PDF file.But you must need a PDF editor to edit the downloaded document, and so PDF editors are necessary for the regular PDF users.By the way, they are promoting go green business as well(Just kidding, but true).You might be thinking of free PDF editors who will be available online, But just listen premium make sense by advanced options such as merging nad more.The prices may make you think but trust me that software will surely help you up to the mark and here are the best PDF editors.
Top 7 Best PDF Editor Softwares
1.Adobe Acrobat Pro DC:
Adobe Acrobat reader is the well-known brand for everyone. It is the best PDF editor software. Every computer user must know about this software. Adobe was a standard company which introduced the PDF to the internet and people. It is the premium product which is available for both Windows and Mac operating systems. Adobe has converted their acrobat reader from one time buy to cloud-based monthly subscription plans. You can do almost everything to your PDF files with Acrobat Reader DC. This is the expensive software. When you can not offer this much amount, go for the second one.
Features:
Converts and saves the scanned documents as PDF instantly.
Merge documents and spreadsheets.
Offers cloud-based storage.
Convert any web page to PDF.
Password Protection Ability.
30 Days free trial.
You can E-Sign PDF documents and you can send documents for E sign.
You can convert PDF to Office documents. Editing PDF document is very easy.
You can access and edit your documents from anywhere and from any device.
Isn't better to go with the very first founder of PDF?.My answer is yes, but it was a bit premium.
Price: $15/month
Available for: Windows and Mac
2.Wondershare PDFelement
Wondershare is another well-known software developer company. Its PDF editor works very well. I used this software on my Windows PC. Its performance is very fast. It gives almost all features what you get from Acrobat reader. The best thing about this software is, its interface is very simple and it works very fast. Even the file is the very big file, You can quickly optimize or convert in no time.  You may also read my review about Wondershare PDFelement for more details.
You will get one PC license for $99.95. If you buy more licenses you will get up to 10% discount. WhatVwant readers get extra 20% discount through WhatVwants Wondershare Discount coupon page.
3.iSkysoft PDF editor:

Its's the best tool if you want to go simple.It was a well-known tool to the Windows and Mac users.You could enjoy this software if you bought the complete package. It is simple yet powerful software. You can do almost everything with this software.
Some of the Features of iSkysoft PDF Editor are
It is available for Windows and MAC users,
Allows the users to edit the layout by adding pages and more.
Standard users had some extra benefits as well.
It password-Protect the PDF files(This option comes with package only).
Pro version allows you to add a digital signature, and it offers OCR in 20 different languages.
Available for: Windows and Mac
4.Able2Extract Pro
Able2Extract Professional is another easy to use PDF editor software from Investintech Inc.,. Its conversion is very fast. It gives all features what you get from other software. It supports too many output formats. Its price starts from $99.99. If you want OCR functionality, you need to spend more. The best part of this software is its 7 days free trial. Yes, you can try its complete features and functionality before buying. If you like the software, then only you can buy it.
5.Foxit Phantom 7 PDF editor:
I wish it was the best if you are just about to start with PDF editors. You can have a trial of it for 30 days without paying.In this way, you can check the working of the tool before buying as well. You can use their free software. That will give some basic editing features.
Features of Premium software
It has a basic interface.
Built in spell checker.
Allows to drag/drop photos into the file.
Advanced options to use colored text as well.
Merge multiple PDF files into one file.
It is available for all versions of windows.
Available for: wordWindows.
6.Nitro Pro 10: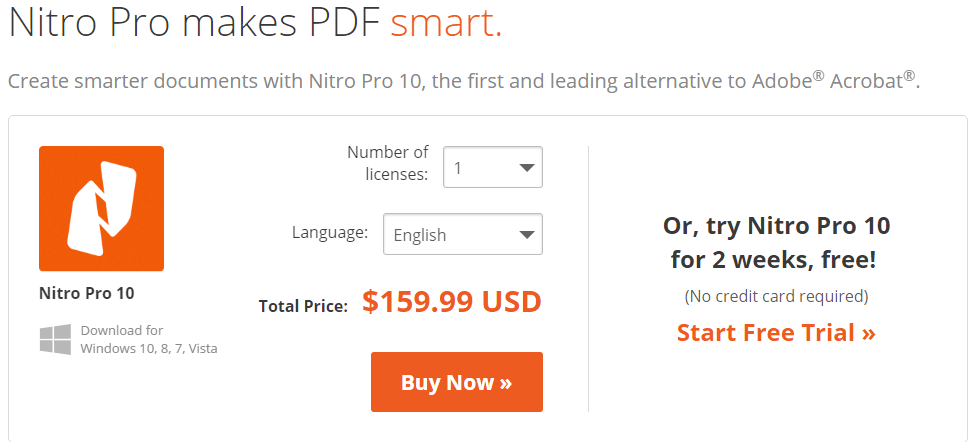 When it comes to heavy work edit, Then Nitro Pro 10 comes into the play.It is used for the both personal and business purpose as well. The official Nitro offer you a two-week trial period in which you can use it for free.You can buy it after using its trail version. Some features of the Nitro Pro are listed below…
you can convert PDF files into Word, Excel, and Powerpoint per your requirements.
It had a set of tools for creating and editing the scanned documents from your local printer as well.
Convert your essential emails into PDF directly.
Easy to navigate and support required tools for every browser separately.
Price:$160+
Available for: Windows
7.PDF Architect:

PDF Architect is a German company based software tool which is included with some three other packages(Standard, Pro, Pro + OCR).No need to bother, as you can buy them individually as well.Some of the features are
Three packages at a reasonable price.
Optical character recognition.
Power to convert a PDF to HTML file(Unique feature).
Price:$60+
Available for: Windows.
Conclusion:
Well, If you are a good user of PDF files then you have a need with any of these editors. It was always beneficial to go with the premium tools. My humble suggestion is if you are using PDF for some business or professional use then you have to use editors otherwise you can go with the free PDF editors which are available in the market. The best premium software is Adobe Acrobat reader. When you can not offer that much, you can go with Wondershare PDFelement.
If you think this article about Best PDF editor softwares helped you, please share it with your friends and family. Want more tips please Subscribe to whatvwant newsletter. You may follow whatvwant on Facebook, G+ and Twitter.