It is possible to change Gmail profile picture on android phone. Unfortunately Gmail android app does not give you option to change profile picture. But still there is way. Because if you change profile picture in any one of the Google products, that will automatically change your Gmail profile picture. In this tutorial I am going to show you how I have changed my Gmail profile picture in android mobile.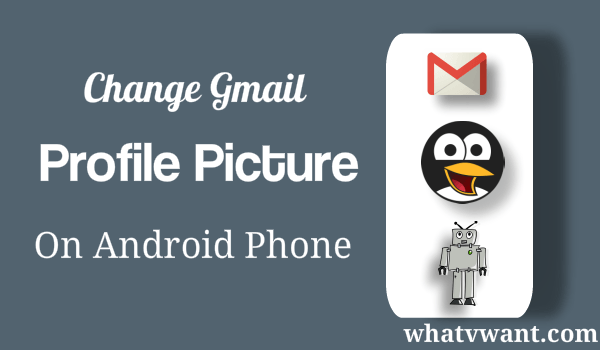 I had good-looking photo in my mobile. I wanted to set this picture as my profile picture to Gmail. Sending photo PC and changing Gmail profile picture on desktop would be lengthy process. So I wanted to set the picture in the mobile itself. So I have opened Gmail app in my android mobile, but I could not find option to change profile picture. Then I have opened Google+ app in mobile. Even Google Plus app did not give me option to change picture. I have opened Google Hangouts app. fortunately I found option to change profile picture in Hangouts. I have changed photo in hangouts, it automatically changed my profile picture in Gmail and in all Google products.Now let us see how I have changed Gmail profile picture using Hangouts.
How to Change Gmail profile picture on android
1.Open Hangouts app by touching on Hangouts app symbol in apps list.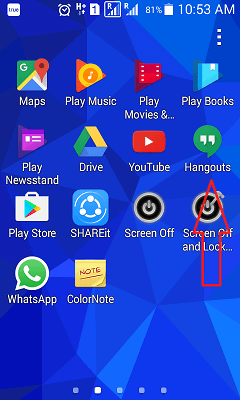 2.Touch on three horizontal lines symbol in top left corner.
3.Select Settings. You need not to worry Even if you more than one account. You just need to go to Settings.
4.If you have more than one account you will see all accounts in Accounts Settings. Select account on which you want to change profile picture.
5.Now you will see Profile Photo option under General Settings. Touch on Profile symbol.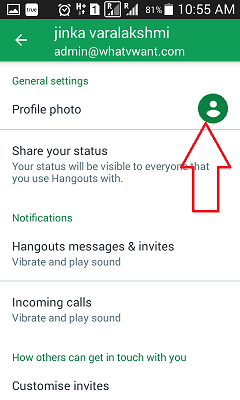 6.Select Set Profile Photo option in next screen.
7.Select Take Photo, If  you want to take photo from your mobile phone camera. Select Choose Photo, if you want to select photo from your mobile phone gallery. Here I have chosen Choose Photo.
8.Now browse your mobile gallery, select photo. You can adjust square box to set particular part of your image. You can also zoom your photo to select only required part. Select Accept.
Immediately you may not see profile photo. But don't worry you have successfully changed your profile picture. If you open Gmail app now, you will see your new photo. You can even see this profile picture in all Google products like Google Plus, YouTube and others.
I hope now you can Change Gmail profile picture on android phone. If you like my tip, please share this tip on social media.  Please Subscribe to our newsletter for more tips. You can also follow us on Facebook, Google+ or Twitter.