You can easily Change IP address on your PC or Mac or Mobile. This article will give you all possible ways to Change IP address. There are multiple reasons you might want to change your IP address and multiple types of IP addresses you're able to change. It's important to know which kind you're interested in changing before continuing.
Few Details about IP address
Every device connected to the internet has an IP address, as well as a router. However, a router not only has its own IP address but also the devices which are connected to it.
There are four kinds of Ip Address which is Public Ip address, Private Ip address, Static Ip address and Dynamic Ip address.
In this article, we will discuss Private IP address and Public IP Address in detail.
An IP address that is assigned by a DHCP server is a dynamic IP address. If a device does not have DHCP enabled or does not support it then the IP address must be assigned manually, in which case the IP address is called a static IP address.
 How to Change Your IP Address
This Article teaches you how to change both your public IP address and your private IP address on a Windows computer. Your public IP address is the address that your computer broadcasts to other networks, while your private IP address is your computer's specific address within your own wireless network.
1.How to Change Your Public IP Address:
All you have to do is unplug the modem and wait for a few minutes.
When you plug it back in and turn the router on, you're likely to have a new IP address assigned.
If it doesn't change then after unplugging wait for five minutes and plug it back. If it still doesn't work, try unplugging it overnight for 8 hours or so.
To check if your IP changed, just follow the instructions we listed in below articles.
2.Change Your Public IP Using Tor Browser
Tor Browser is an open source project which uses multiple nodes to process your data. You need to install this browser on your computer. When you browse the internet from this browser, it will automatically assign any one of the IP from tor network to your computer. It will also encrypt your data from your browser to tor network. But the reverse is not possible. So complete protection is not available like in VPN services. But you can mask your IP, you can unblock any website, and you can browse the internet anonymously.
3.Changing Your Public IP Address Using VPN Service
Using any one of the Top VPN services is the best method to change your IP address. They mask your IP address and give you an IP address from a different part of the world. They also allow you to browse the Internet without being traced. They encrypt your data so that no one can track or hack your computer or your data. Today VPN service is the top priority security software which can bypass your country Government restrictions. It can unblock any blocked website in your country. Read more details about VPN.
There are lots of Top VPN services available. I suggest you a best VPN service ExpressVPN. But it is expensive. If you need a Cheap and Best alternative, I recommend you NordVPN(77% Discounted Link).
If all else fails and you don't want to go with a proxy or VPN, you can also contact your ISP provider. Simply give them a call and ask them to change your IP address for you.
4.How to Change your Private IP Address:
Open Network and Sharing Center from Control Panel or Right Click on Network Icon which is located at the right side of the screen.
Click on Change adapter settings on the left side of the screen.
Right click on Local Area Network or Wireless Network which you wanna change IP.
Click on Properties option.
Double-click the IPv4 item from the list.
Choose General Tab and select Use the following IP Address or select Obtain an IP address automatically to have the router control the IP address.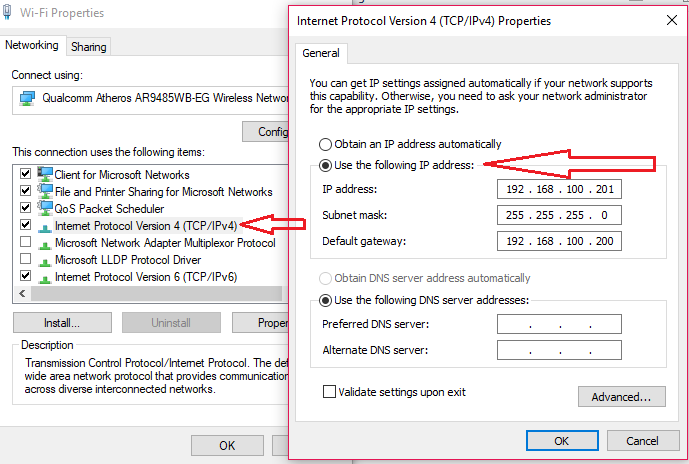 5.How to Change Ip Address in a Mobile phone:
You can also change the IP address on a mobile device such as the Apple iPhone or Android phone:
Open Settings App.
Tap on Wifi option.
iPhone Users: Tap the small (i) next to the network.
Go into the Static tab of the IP ADDRESS area.
Enter the network details manually, like your own IP address, DNS information, etc..,
Android Users: Tap and hold the connected network.
It will open up two Option for that Network, Forget Network and Manage network settings.
Tap on Manage network settings and check mark on Show advanced options.
Change to Static option in IP Settings. Now you can change Ip address for your Android phone.
You can also use VPN services like NordVPN(77% Discounted Link) to change mobile IP or to protect your online activity through mobile. Every VPN service provides apps for all platforms.
If you like this tutorial about How to Change IP address, please share it with your friends and family. Want more tips, Please follow whatvwant on Facebook, Google+ and Twitter.