What to check spelling and grammar? What to write English without any grammar mistake. Want to send emails without any spelling mistakes? Want to send Facebook posts or twitter tweets with perfect English. Want to write error free articles for your blog. Grammarly a free tool will help you to write English online without any mistake.
What is Grammarly?
Grammarly is basically an amazing free grammar checker tool. It has a premium version too. Its free version also does wonders to your English grammar.
It checks spelling mistakes, Grammar mistakes, article missing and much more for free. Its premium version gives advanced grammar checking and Plagiarism checker tool which is useful for bloggers.
Grammarly gives free extensions for Google chrome, safari, and Firefox. You just need to install the extension for your browser. That's it that will do everything. Remember, it will not work for other browsers.
It works anywhere on the web. It works well in WordPress post editor while writing blog posts. The free version gives you Microsoft Word add-in also which checks grammar in your MS word.
It even supports Android and iOS. Grammarly offering special keyboard on your smartphone for free. You can use its free version on your mobile phone too.
How to Check Spelling and Grammar
Visit Grammarly website from Google chrome or Safari or Firefox. You will see below screen.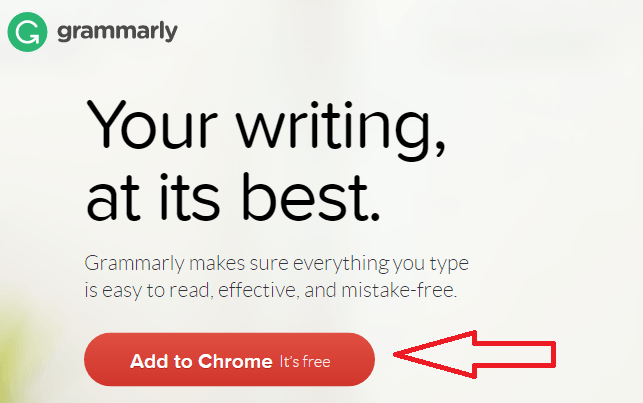 I have used Google chrome, so I am seeing Add to Chrome button. If you use Safari or Firefox, you may see button related to your browser.
Click on Add to Chrome button.
Signup with your name and email.
Install the extension. After installing the extension, you will see Grammarly symbol at top right of your browser.

Now your Google chrome browser is ready with Grammarly. You can change your English language preference to US or UK or any other country English by going into settings in Grammarly website. Write anywhere anything on the web, Grammarly will check spelling and grammar of your English. But you must have logged in to your Grammarly account always to use it. I will show you how it works in Gmail.
Compose your mail. Write anything in the mail box. if you write any mistake, it will immediately underline with a red line.
Just place the cursor on the word which was underlined, you will see the solution. You can select correct one or ignore that.
You can also see a total number of errors at bottom right corner. Just click on that number, you will see a new pop-up window where you will see entire content with Grammarly where you can edit all errors once.

Right side, you will see the wrong word and its correction. Just click on the correct word, the wrong word will be replaced with correct one. If you don't want to replace that word, you can select a cross symbol to ignore that correction. Like this correct all errors, and click anywhere outside of the pop up to exit pop up window. You will see all corrections.
Grammarly will do the same thing on Facebook or anywhere on the web. But you need to use same web browser where you have installed Grammarly extension.
If you have articles to correct, login into Grammarly website, and upload your file to correct sentences.
Conclusion:
Grammarly is an amazing tool which helps you to write error-free English on the web. You can also learn good English through it. Its free version is working very well. I am using it even to correct grammar mistakes in my blog articles.
I hope you like my article about How to check spelling and grammar using Grammarly. If you like it, do me a favor by sharing it with your friends. Please follow whatvwant on Facebook, Google+ and Twitter.