Want to Convert PDF file into a text file? PDF files are quite popular these days and are used a lot for transferring data. This success of PDF files is because of its features and ability to put in almost any type of media into it. But getting access to all of these features makes PDF files much more complex and complicated to use. Another simple yet popular type of file is .txt file or a text file which can hold nothing else other than simple text. These file formats are interchangeable and here's how to do it –
Convert PDF file into a text file
Here you will get four methods to Convert PDF file into a text file. I recommend the last one which is by using Wondershare PDFelement.
1 ) Copy – Paste Method –
One of the most simple things you can do is to simply copy the text from the PDF file and paste it to a text file.
Open the PDF file and copy all the text
Open the Notepad in windows or any other word processor if you are using Mac
Paste the copied text and save the file as a .txt file
This method is a bit of hassle but is suitable for people who do it once in a while.
Also Read – 
2 ) Using pdftotext website
Visit PDFtoText website from any web browser.
Upload your PDF document you want to convert to text there.
Once uploaded just click the Download All button and get your text files
DONE!!!
Also Read –
3 ) Using Easy PDF to Text Converter –
You can use this completely free application for doing it too!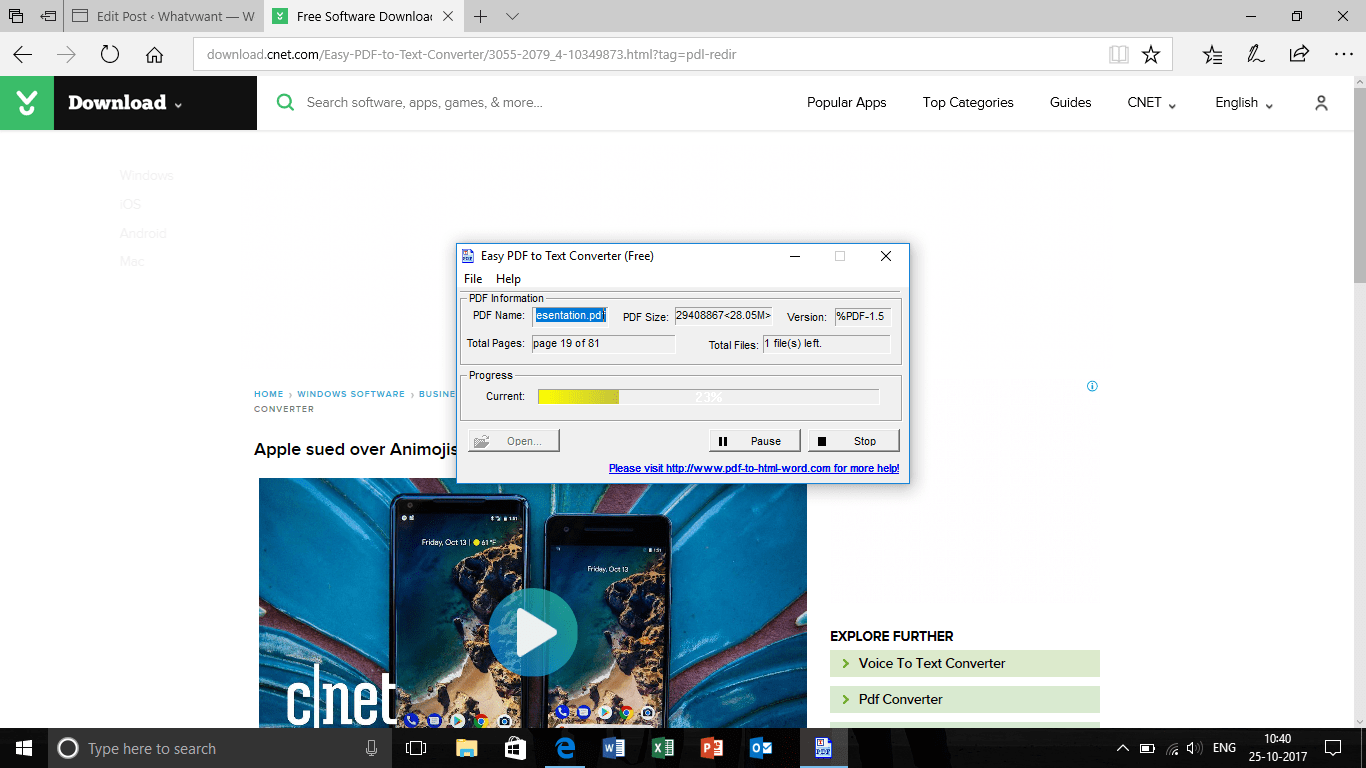 Download it from here ( Easy PDF to Text Converter )
Install the app as you are guided by a install wizard.
Click on Open and browse & find your desired PDF file
DONE!!!
4 ) Using Wondershare PDFelement ( Recommended ) –
This is the method I personally use and recommend this to you too. Wondershare PDFelement is the cheap and best alternative to Adobe Acrobat reader. You can do everything to PDF file with the PDFelement. If you are the regular user of PDf files, I recommend you try PDFelement. You can read our complete review about Wondershare PDFelement. WhatVwant readers get the special discount through this discounted page.
Buy PDFelement or download Free version from the official website. Install the software.
Open PDFelement.
Open up the PDF file you want to convert to text. 
Once open in the editor, click on ' file '
Once in the ' file tab ' click on ' Convert '
Select the .txt or text option there and DONE!!!
If you like this tutorial on How to Convert PDF files to Text, please share it with your friends. Want more tips, Please follow whatvwant on Facebook, Google+ and Twitter.