You need not to spend money to Convert PDF to word on iPhone or iPad. You can do it with a free app. This tutorial will guide to How to convert PDF to word on iPhone with a free app.
Have you ever had the chance to see for yourself just how tricky it is to edit a PDF when you don't have the sufficient computer program to do so? Pretty impossible right? Now imagine having to work away from your computer. Well, if you are a fan of Apple products, whether it's an iPad or iPhone, you have a solution. Introducing
Introducing PDF to Word, a state of the art OCR conversion app that fits all your PDF needs. This app is available even for Android users. It has a free and premium version. The free version does what you need. Free version converts files even from online services like Google Drive, iCloud, Gmail, Dropbox or OneDrive.
Some Features
Powerful document scanner.
Automatic paper recognition when scanning.
Ability to rotate and apply filters to scanned documents.
Convert images and screenshots of documents.
etc.,
How to Convert PDF to word on iPhone
Step 1: Download PDF to Word to your device
Click Here to download PDF to Word app from app store. Or Type PDF to Word in the search tab on your App Store and you will find that this app is on the first place.
You can download it by tapping on the Install button and the app will start downloading. Once it safe and sound on your device, it will most likely appear on the last page of your screen. Swipe over to it and open the app.
Step 2: Select which PDF you want to convert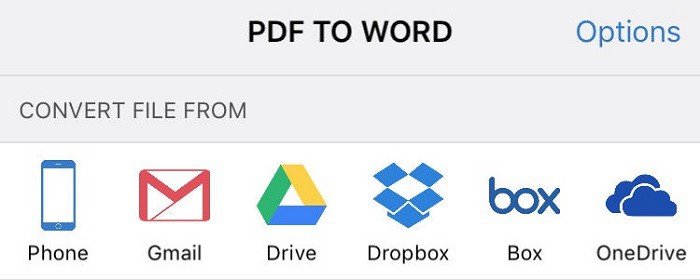 There are 2 ways to do so: First way is to manually select the file from within your device. If you have it on your hard drive, go to whatever folder you are keeping it in, and import it to PDF to Word. This might take a while, and generally this is the harder way to import your files since the iOS platform doesn't have a file browser.
The other way to import the file is via integrated importing services. Connect your desired cloud service with PDF to Word, and once you select the service, PDF to Word will list all the files you have within that cloud storage. The newest file will appear on top, while the oldest one will be last on the list.
Step 3: Leave it to the app
Once you've selected the file, PDF to Word automatically sends it to Cometdocs servers and your job is pretty much done. All you have to do is patiently sit and wait for the conversion to be finished. Once the file is sent to the server, it will show up on the main screen, as well as show you the status of conversion. As for the files you previously converted, they will also appear on that same place, but below all ongoing conversions.
Step 4: Preview your new MS Word file
Once the conversion is done, the file will be downloaded from Cometdocs servers and will appear on the top of the list of conversions and files that were previously converted. The icon of the file will now be blue and representing a MS Word file. Tap on the file and select Preview in the bottom left corner of your screen.
All files are converted to .docx format, which is the primary file editing format for almost any editing app. The content of the PDF will remain unchanged, so you can expect all your layouts, images, text formatting, etc. to be just like in the original PDF file.
I hope you like this tutorial about Convert PDF to word on iPhone. If you like it, do me a favor by sharing it with your friends. Want more updates, please follow whatvwant on Facebook, Google+ and Twitter.