Do you want to Convert PDF to Word on Mac? This article will give you 3 possible methods to Convert PDF file to Word document on Mac by using online and offline methods.
If you regularly work with PDF files, You can go with Adobe Acrobat reader. You might know Adobe Acrobat reader is the best PDF software ever which can do any task to your PDF files. But it is expensive which comes with the monthly subscription plans. So I can recommend you Wondershare PDFelement which is the best alternative to Adobe reader. Which does almost every task but inexpensive and comes with the lifetime license.
Don't want to spend money, read this article.
1)Convert PDF to Word Using Online Method (Free)
When you rarely need to convert your PDF to Word, you can use this method which is the free one.
1)Visit PDFtoWord Website from your browser.
2)By default, the first option would be PDF, chose the second option as Word by clicking on drop down.
3)Click on Select your file option and chose your PDF file from your computer.
4)You need to enter the Email address to receive the file download link.
5)Click Convert Now. You will receive your Word file downloaded link in your inbox.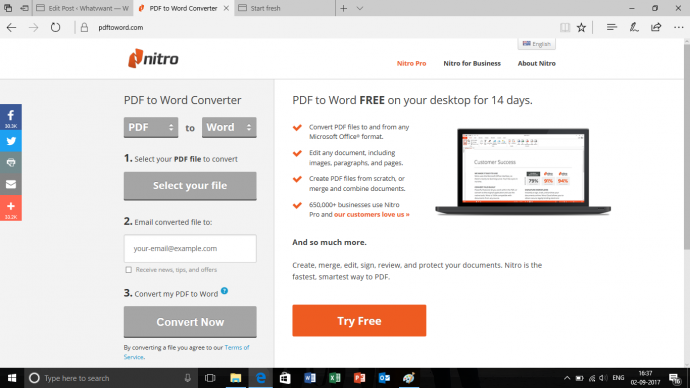 This is the free method but may consume your time. Next methods will give you offline methods which easy and fast but you need to spend money.
2.Using Cisdom PDFtoWordConverter for Mac
Cisdem PDFtoWord converter for Mac is the most efficient tool to convert any PDF to Word on Mac system. It is considered as most recommended by many of the experts as it retains the original layout and structure as it is from the PDF.
It resembles the accurate layout that retains the originality including layouts, images, and table format.
It saves the time and there is no need of manual copy-paste job and eliminates the tedious job.
It has very high quality and even converts the PDF those are encrypted. It removes the password encryption while converting.
Follow the below steps to convert PDF to word on Mac using Cisdem tool:
1) Buy Cisdem PDFtoWordConverter for Mac. Install the software. Open the software. Just Drag and Drop the PDF in the box shown below to convert to Word. Batch conversion is also supported here.
2) You can even use the '+' symbol to add more PDF files to be converted.
3) The maximum number of PDF files can be converted will be 50 files at each time.
4) Once PDF is added, then options will be displayed as shown below.
5) You can choose the range and customize as you need.
6) By default 'All Pages' option will be selected and all pages will be converted with this option.
7) You can convert the PDF to either 'PDF to Docx' or 'PDF to Rtfd'. Please see below screenshot for options in drop down.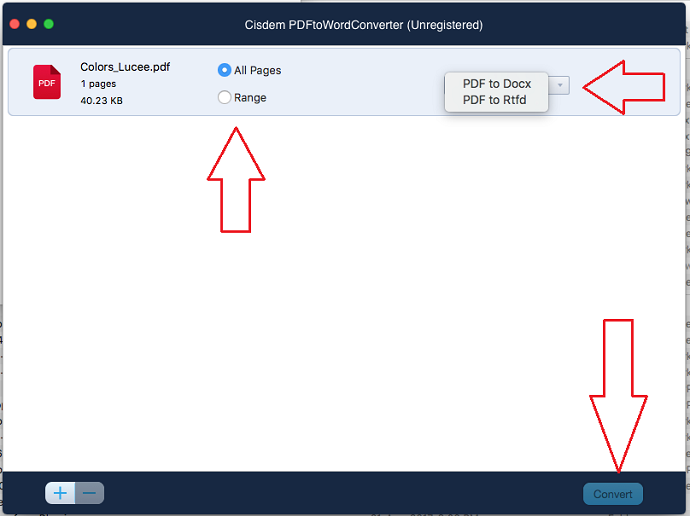 8) Then once the PDF files are selected, you can see the 'Convert' button which is used to convert.
9) Then click on 'Convert' button to start conversion. The status can be visible while converting. Single or batch of files can be converted.
10) Once it is done, you can check the results of conversion which is very accurate without any mess up.
3.Convert PDF to Word on Mac Using PDFelement
Above method will help you to convert PDF to word on Mac. But that will not give you more PDF editing features. So I recommend you Wondershare PDFelement which is the cheap and best alternative to Adobe Acrobat Reader. It is available for Mac and Windows as well. It gives almost every feature to edit and convert PDF files. You can read our complete review about PDFelement for more details. WhatVwant readers get special discount on PDFelement through this discounted link.
Let us see how it converts PDF to word.
1)Buy or download Free Trial of PDFelement. Install the downloaded software. Open the software. Select Edit PDF shows that in below screenshot. Browse your computer and select the PDF file. Or you can directly right click on the PDF file and open with PDFelement.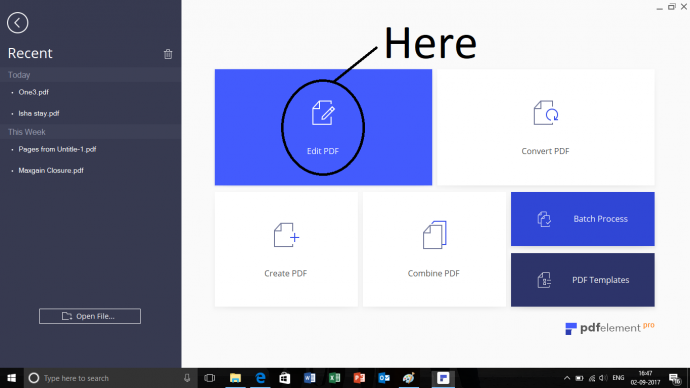 2)Go to File at top left corner. You will see all available options.
3)Select Convert option from the left menu. Select the Word option to convert PDF to Word. You can also select Other Files option to convert your PDF to any other format.
Now it will quickly convert your PDF to Word Document.
Now you know how to convert PDF to Word on Mac. If this tutorial helped you, please share it and Subscribe to whatvwant.com for more updates. If you like to follow us on social media please like us on Facebook, G+ or Twitter.