You can use many ways to Download YouTube videos on Android. This article will give you two simple methods to download YouTube videos on Android phone using online and offline methods.
Downloading Youtube videos is something everybody wants to do but Youtube doesn't provide a feature with which you can save or download any videos straight on your device, though it provides an option to offline any particular video with which you can watch the video without an internet connection that doesn't let you share the video on social media on the contrary only a link will be shared . But there are of course ways with which you can download videos straight onto your SD card on Android.
1.Download YouTube videos on Android – Online Method
You can download your video with some websites by just giving them the link to the video, it is very simple and is useful for people who want to download videos only once in a while.
All you need to do is –
1 ) Go to Youtube and then to the video you want to download just click on the share button and copy the link of the video to your clipboard.
2 ) Once you have the link go to Clipconverter website and paste the link there and click on the continue button.
3 ) Then it will show you different resolutions ( quality of video ) in which you can download the video , just select the one you want and click on start to begin the conversion process.
4 ) It will later take you to the download page , just click ' download ' and it will start downloading the video .
2.Download YouTube videos on Android – Offline Method
There are apps also available out there with which you can download Youtube Videos. This method is useful for people who consume a lot of media and want to download videos quite frequently. You can also use Android YouTube Offline feature to watch videos later.
All you need to do is –
1) Download a free app called as TubeMate. This app is not available on the Play Store. You need to download its APK file from the internet, you can find the genuine download sources at their official website.
CAUTION – There are a lot of fake websites on the internet claiming to offer TubeMate APK, don't fall for this trap as those websites are full of advertisements. Only use this Official Tubemate website.
2) Once you open the app for the first time it guides you through its terms and conditions and updates. Once done, it will open Youtube in an integrated browser.
3) Just search for the video you want to download and play it . As it starts streaming you will notice a green download icon on the top menu bar , click on it.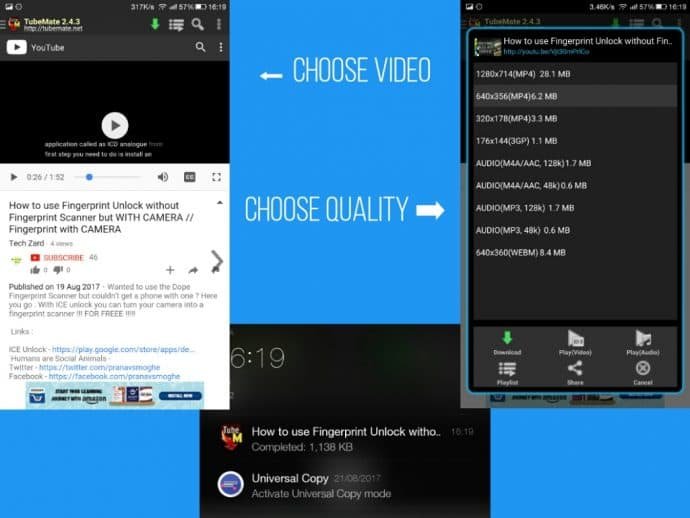 4) It will then parse the video and show you the available download resolutions. Once you select whichever one you want you can click on the download icon and it will download the video.
Yeah !! You just did it !!
If you like this tutorial about How to Download YouTube videos on Android, please share it with your friends. Want more tips, Please follow whatvwant on Facebook, Google+ and Twitter.