Free encryption software available to Encrypt USB drive. In this article I am showing you the method to Encrypt USB drive. And how you can password protect USB drive.
What is Encryption?
Encryption is the process of encoding original data with a key or password. You can use encrypted data, only after decryption with a key or password. It is the most effective way to make data security. Read more details from Wikipedia.
Caution : If you consider deleting data is OK instead leaking data, then only you can go for this method. Because in this method I am showing you a free software which performs encryption. If you Encrypt USB drive, it will show only option to format disc. Only you can decrypt that USB with same software. So it is best to take backup of your USB before doing encryption.
Here I am suggesting you to use DiskCryptor software to Encrypt USB drive . It is freeware, designed for Windows users. You can use it to Encrypt USB drive, external drives & your PC drives.
Procedure to Encrypt USB drive

Click here to go Download page of DiskCryptor software. You will see below figure.
Click on "Installer" under "Download" shows that in above screenshot. You can see "Download" in the middle of the page. You will get setup file. Install the setup file. It will ask you to restart you PC to complete installation. Restart PC and complete installation.
Insert your USB in PC slot.
Click on DiskCryptor icon to open software. You will see below window.
Click on your USB drive name. You will see your selection in the bottom of window.
Click "Encrypt". You will see a small window shows that in below screenshot.
Keep "Algorithm" as "AES" and "Wipe Mode" as "None".
Click "Next". You will see below window where you need to enter password.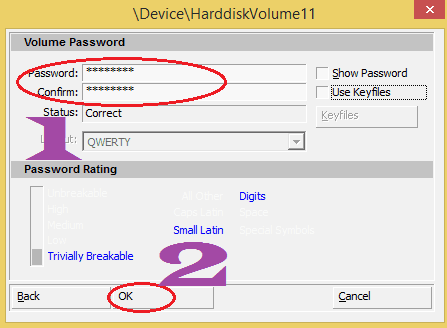 Enter password and confirm password. You need not to select "show password" and "Use key files" options.
Click Ok.
Now it will start encrypting USB. You will see status in the bottom of DiskCryptor main window. It takes time. It took more than 15 minutes to encrypt 4GB pen drive. After encryption you will see status as Mounted near your USB name.
Remove USB from your PC. Insert it in your PC or any other PC. You will see below window.
Every one see option to format USB. No one can access your information. Only you can access information by decryption.
How to access files from encrypted USB
Insert USB in your PC. Click cancel, when it is prompted to format.
Click on Diskcryptor icon to open software.
Select your USB drive.
Click "Mount" in right menu. It will show small window which ask you to enter password.
Enter password which is created in encryption process.
Click Ok. It will immediately open your USB. You can access your files.
How to decrypt USB
Follow above procedure up to last step. Close USB window.
Click "Decrypt" in right menu of DiskCryptor software. It will start decryption procedure. You can see status in bottom of window. It takes same time as encryption.
Thanks for reading my article about Encrypt USB drive with a best free software. If you like it, do me favor by sharing it with your friends.