Want to Find MAC Address on Mac? Every Network cards has unique number called MAC address. Here are the steps that helps you to find Mac's MAC address for any network interface.
What is MAC address?
MAC stands for Media Access Control. Each Mac's network interfaces i.e WI-Fi cards, Bluetooth and Ethernet will have a permanent & unique serial number known as Media Access Control (MAC) address. The MAC address can be used for some special & specific purposes to track and trigger an alert if someone's computer is stolen and connected to the Organization network. Basically it is good idea to store the MAC address. Some organizations will ask this to limit the access to only certain networks based on the need. Read more details about MAC address on Wikipedia.
How to Find MAC address on Mac
1. Open the Spotlight search from the menu bar.
2. Enter 'System Preferences' in the Spotlight search to open the System Preferences window. (OR)
 3. Click on Apple menu from the top menu bar and select 'System Preferences'.
 4. The 'System Preferences' window will open.
5. Select 'Network' from the Internet & Wireless category and the Network window will open.
 6. The Side bar menu displays different network interfaces such as Ethernet, WI-Fi etc.
7. Select the specific network interface such as WI-Fi and the window will appears.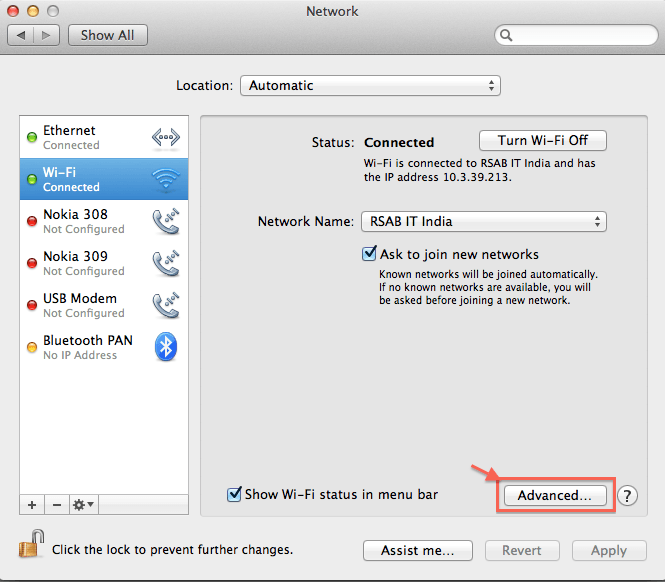 8. Click on 'Advanced' button.
9. A new selected interface window 'WI-Fi' in this case will open.
10. Select the Hardware tab from the tabs available.
11. The MAC Address: is the one displayed in window for the selected network interface.
Note: The MAC address should be kept very confidential and cannot be shared with anyone except with the authorized Higher Management and IT personnel. Since the MAC addresses are unique and permanent, they can be hacked by some malicious individuals. They can do some illegal activities and you will be blamed for the same. So make sure to keep the MAC address confidential and protect it.
Now you know How to Find MAC address on Mac. If this tutorial helped you, please share it and Subscribe to whatvwant.com for more updates. If you like to follow us on social media please like us on Facebook, G+ or Twitter.