I Hide my IP address to unblock websites and to protect my online activity. In this article, I am going to give you possible methods to hide IP address and to change the IP address.
When do you need to hide IP address?
One has to hide IP address in below conditions.
Unblock websites: Your country might have blocked some websites. If you want to unblock them, you need to hide your IP and use some other country IP.
Prevent ISP tracking: Your ISP or Government may monitor your online activity. Recently US Government allowed ISPs to collect and sell user data without user permission. Anyone can monitor your activity by using your IP address. If you want to get protected, you need to hide your IP address. You may read 3 Ways to prevent ISP tracking.
Identity protection.
Hide your location.
Bypass Geo restrictions.
How I Hide my IP address
I use below methods to hide my IP address.
1.Use Tor browser
Tor browser is an open source project. It is not just a browser, it is a network. After installing this browser, you will see two options connect and configure. Just select connect option. It will hide your IP address and allot some other IP address from Tor network. It is really a free browser which works great. It will also protect you from tracking your activity.
It will not change your IP completely. It will give another IP only in the tor browser. If you use another browser, your IP will not be hidden. You must use tor browser to browse the internet. It will not give you 100% protection by encrypting your data like VPN service. Still, it is a free browser everyone can use it.
You can check below screenshot for how tor browser changes your IP. The Left browser is a Google chrome which shows my IP address. Right on is the Tor browser which shows Anonymous IP address.
2.Use free Anonymous Proxy servers
Anonymous proxy servers will hide your IP and provide any one of their servers IP address. If you use proxy server, you will not browse any website directly, you will browse websites through proxy server websites. So your IP will be protected. You need to browse from the service provider website. It may not be convenient for you. It will slow down your internet speed. But it will solve your issue temporarily. Some reputable brands provide this free service.
Visit Hide me Proxy page. Type your required website to browse. Select any one of the countries. They will allot that country IP address to your PC.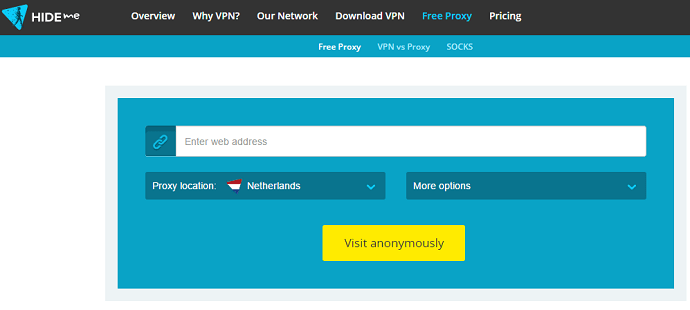 In this way, you can unblock any restricted content in your country.
The Free proxy works differently that VPN service. If you need complete protection and convenient, you need to use a VPN service.
3.Use a VPN service
Using VPN service is the best way to hide your IP and to be protected. VPN services gives you below features.
Hides your IP.
Encrypts your data so that no one can hack your data.
You can select your required country location and browse with that country IP.
Some VPN services provide no log policy. That means they will erase your browsing data so that no one can track your online activity. Even your ISP can not track your activity.
You can unblock any website which was blocked in your country.
Read More details about VPN.
There are many top VPN services available. We have tested many services. For your convenience, I can recommend you ExpressVPN which is the fastest VPN service in the world. It is the expensive one. It will cost you $8.32/Month with the annual plan.
For those who need a cheaper alternative to ExpressVPN, I can recommend you a cheap and best VPN service NordVPN (77% Discounted link). It will cost you $3.29/Month with the two years plan.
I hope you like my article about How I Hide my IP address. If you like it, do me a favor by sharing it with your friends. Please follow whatvwant on Facebook, Google+ and Twitter.