This article gives the solution for how to remove script error message from foxit reader. Foxit reader is the best free pdf reader software, through which you can convert word,excel and image to pdf. It has some editing facilities.
By using foxit reader you can,
You can download foxit reader from foxitsoftware.com. Sometimes you may get script error message while using foxit reader. Script error message appear like shows that in below figure. This tutorial gives you guide to remove that error.
How to remove script error message from foxit reader
Open foxit reader.
Click on file.
Click on "preferences" as shown in below figure. Now "preferences" window will be opened.
Click on "General", uncheck "show start page" and "show advertisement" as shown in below figure.
Click ok.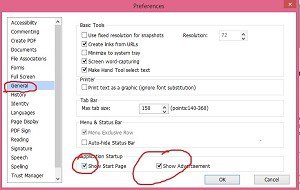 Now you will never get script error message in foxit reader.
Second method
Un install foxit reader. Re install foxit reader. While installing un check "Enable safe reading mode" in safe reading mode settings. now you will never see error message.
Conclusion:
If you regularly work on PDF files, you better go with premium PDF softwares like Acrobat Reader Pro. If you want cheaper alternative to Adobe reader, you can consider iskysoft PDF Editor for Windows and iskysoft PDF editor for Mac.
I hope you like my article about how to remove script error message from foxit reader. If you are benefited from my article, do me favour by sharing this article with your friends. And if you want to receive WhatVwant updates Please follow whatvwant on Facebook, Google+ and Twitter. You can also [cp_modal id="cp_id_af14b"]Subscribe to WhatVwant.[/cp_modal]