It is possible to resize image without losing the quality of a picture. We can use ms paint or Adobe Photoshop Elements or FSresizer to resize image. If you compress image without reducing physical dimensions, you will lose the quality. A simple way to compress image without losing quality is to reduce its physical dimensions. When you resize an image, it automatically compresses the image size. That means you can compress your image without losing quality.
Of course, you can do anything to photo with Photoshop or Photoshop elements. If you want to buy Photoshop or Photoshop elements buy from Adobe store. You may also consider Top 5 Photoshop alternatives.
What is the difference between resizing and compress?
There is slight difference between resizing and compress. When you change image size without changing physical dimensions, it is called compression. When you change image size and physical dimensions, it is called resize. If you compress the image, you will get an image with less quality. If you resize image, the quality of image remains same.
In many places you will need to resize image, like in job applications or to fit images with your PC screen resolution. If you have taken photos with high-end digital camera, it may take photos with pixel size of 1440 X  2560 or 3560 X 1440. Here 1440 X 2560 means this photo has 1440 pixels in width and 2560 pixels in height. Before going to tell you about how to resize image? First you need to know about two words.
1.Pixel:
It is the smallest addressable element in any image. When the number of pixels are increased, image quality would be increased. It means that picture quality depends upon the number of pixels.
2.Resolution:
It is represented with "ppi(Pixels per inch)". It directly relates to the size of image. For example consider any image with dimensions 6 inches X 4 inches . Consider camera resolution is 250 ppi, it means any photo taken from this camera will produce 250 pixels in an inch. Now the complete dimension of an image in pixels is 6*250 X 4*250 -> 1500 px X 1000 px. Now the image has 1500 pixels in width and 1000 pixels in height. If you want to resize image, you just have to change its number of pixels in width as well as in height. Another way is to resize image is to change its resolution.  For example If you want to change image size to 3 inches X 2 inches, You just need to change its resolution to 500 ppi. Like this you can change image to any dimension according to your need. So when you change number of pixels or resolution, it does not has any impact on quality. If the concept is not clear you can just visit about resizing image and resolution  In this article I am going to show you two ways to resize image without loosing quality.
How to resize image
You can use three methods to resize any picture.
Method1: Using MS Paint
Right click on any image.
Click on edit. Image will be opened in paint.
Click on "Resize" which is at the top of window.
"Resize and Skew" window will be opened. Check at pixels. It will show original pixels in horizontal and vertical boxes. Change the pixel size in horizontal, it will automatically change the pixel size in vertical box. Make sure that "maintain aspect ratio" is checked. Next click ok.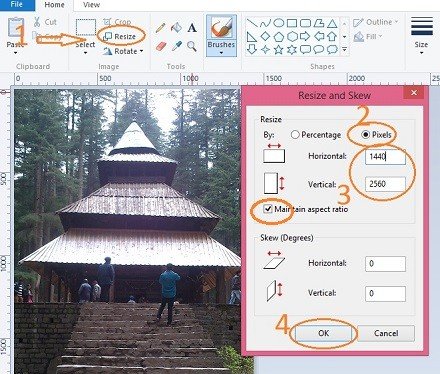 Now your image size as well as physical dimensions are changed without loosing quality of image.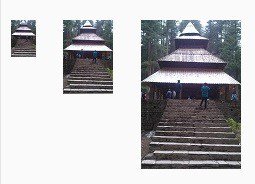 I will give you simple example how I have changed the image size. Just look these three images. Actual size of this image is 1.13 MB and actual physical dimension is 1440 px X 2560 px. I have opened this image in paint and typed 25 in horizontal box from above window. Now it's size became 3.03 KB and physical dimensions are 25 X 37. In second image I have written 50 in horizontal box, now it's size is 5.94 KB and physical dimensions are 50 X 74. In the third image I have written 100 in horizontal box, now it's size became 13.9 KB and physical dimensions are 100 X 149. Look at all three images, there is no quality reduction.
Method2: Using Photoshop elements
Open any image with adobe photo shop elements. Click on option "image" in the top menu. Click on "resize image".
Here you can see option to change physical dimensions even in centimeters. You can also get option to change resolution. Just select Percent option. Write down your required percentage in Width and Height field.
Remember one thing, if you want to reduce the size of image, you need to increase the pixel size in resolution and vice verse. "Re sample image option" is there to compress image.
Method3: Using FSresizer
FSresizer is a free software through which you can resize and compress any image.
Visit FSresizer website. You will see above screen. Download any file. For quick installation, you can download exe file. You can also download portable files to carry it to another system. Install the software. Open software from desktop icon.
Browse your computer folder in left pane.
Select any image.
Click Add. You will see selected image in right pane.
If you want, you can change output format and output folder.
Check rectangular box left to Use Advanced Options.
Click Advanced Options. You will see another window. Check Resize box and enter you required width and height pixels. Apply advanced settings and covert image. You will get image with reduced size.
Still if you don't satisfy with your image size, then read image compression techniques to compress your image further.
Thank you for visiting my article how to Resize image without loosing quality. If you like this blog, consider to subscribe by email and sharing this tutorial with your friends.