Want to Run command prompt as Administrator. You can open elevated command prompt in many ways. In this article, I am going to show you how to Run command prompt as Administrator in Windows 7, Vista, 8, 8.1 and 10.
When Should I Run Command Prompt as Administrator?
Command prompt is a place where you can execute commands. You can use Command prompt to troubleshoot and to solve some issues in Windows operating systems. You can get technical details about Windows Command Prompt in this link.
If you are adding a route in Windows Command Prompt, sometimes you may get an error "The requested operation requires elevation". Not only during root addition, but you may also get this kind of errors in command prompt in many times. Some commands would not be executed in command prompt if it was running without Administrator privileges.
If you don't want to get any errors while using Windows command prompt, you must Run cmd as Admin.
Run command prompt as Administrator
How to Open Cmd as admin in Windows 7 or Vista
Go to Start button.
Go to Accessories folder. Search for Command Prompt.
Right-Click Command Prompt. Select Run as Administrator.
How to Open elevated command prompt on Windows 8
Press Windows key on the keyboard to enter start screen.

Type Command Prompt. You will see Command prompt word in the search results.
Right-Click on Command Prompt. You will see five options.
Click Run as Administrator. Now you will see elevated command prompt with full administrator privileges.
Open Administrator Command Prompt in Windows 8,8.1&10
This procedure works for all almost all versions of Windows.
Press Control+Alt+Delete from the keyboard.
Click on Task Manager. You will see Task Manager window.
Click on File at top left corner.
Click on Run new task. You will see Create new task window.

Type "cmd" in the rectangular box shows that below screen shot.

Check "Create this task with administrative privileges."

Click ok. Now you will get an elevated command prompt.
Run Elevated Command Prompt in Windows 8.1
Right-click on Start button.
You can see an option "Command Prompt(Admin)." Click on this option Windows 8.1 command prompt will be opened with administrator privileges.
Open Cmd as Admin in Windows 10
Use Cortana search to search keyword Command Prompt. You will see Command Prompt option shows that in below screenshot.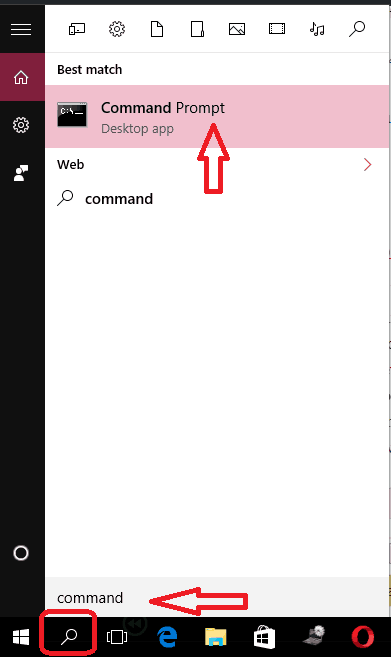 Right-click on Command Prompt Option. You will see an option to run Command Prompt as admin.
These are the ways what I know to open cmd as admin. If you know, any other methods share in the comment section. And please share this article with your friends.