Want to Send colornote notepad notes to PC. Are you using ColorNote note pad notes app on your android mobile. Want to send these notes to your Windows PC. Reason may be anything, you may want to transfer your notes to another mobile or you may want to just transfer to your PC. In this guide I am going to discuss about the ways how I have transferred ColorNote notepad notes to PC.
When do you transfer notes to PC?
You need to send notes to PC in two situations. First one is, Writing notes in mobile takes time. You can write notes on desktop and synchronous with your app.
Second one is, If  you want to transfer notes to any other device. You can use your desktop as medium. First transfer notes to PC and send notes from PC to other devices. Especially, if you want to send notes to iOS, you need to follow this procedure. Because ColorNote Notepad app is not available for iOS users.
How to Send colornote notepad notes to PC
1.Use ColorNote Notepad app on Windows
This is the best method to send notes to PC. ColorNote Notepad app is available for Windows users.
Click here to download ColorNote Notepad app from Microsoft store.
Login with your Gmail which you have used in your android mobile. Immediately your notes will be synchronised and you will see all your notes shows that in below screenshot.
Just click on any note to open note. Select content, copy and paste anywhere. You can also create new note or check list. It will synchronous to your mobile.
2.Send as Attachment
In this method, you can not send all notes. But you can send single note at a time. You can send one after one.
Open ColorNote app on android phone.
Open any note.
Touch on Three vertical dots (menu) symbol at top right. And select Send.
Now you will see available options. You can use send as attachment or Gmail or Bluetooth or Message or Whatsapp.
Just click on Send as attachment.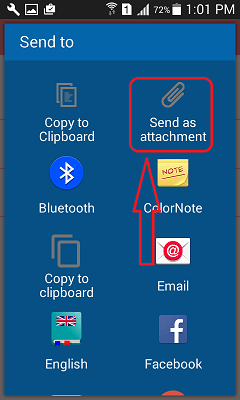 Now select Gmail(or bluetooth or Save to google drive).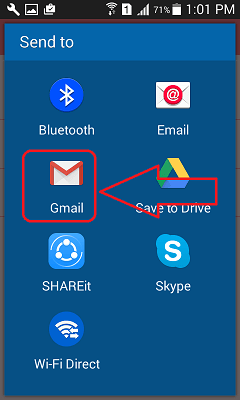 Just fill To address and click send symbol shows that in below screenshot.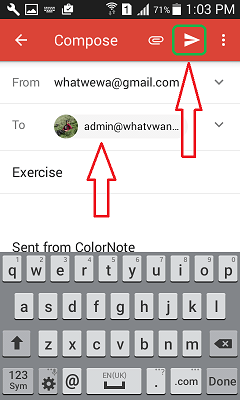 Now open your Gmail on desktop. You might have received Gmail with attachment of an html file. You can directly open this file. Or download file and open. You will see file opened in your browser. Just copy content and paste anywhere. If you want to  save this file as PDF Right click -> Select Print -> Save as PDF.
Instead using send as attachment option you can use Bluetooth or Gmail or google drive option. If you use Gmail option, you will see note content in Gmail content area instead as attachment.
I hope you like this tutorial about how to Send colornote notepad notes to PC. If you know any other method, please share in comment section. Want latest tech. tips, Please follow whatvwant on Facebook, Google+ and Twitter. You can also [cp_modal id="cp_id_af14b"]Subscribe to WhatVwant.[/cp_modal]