Want to know What is MS office 365? Want its Plans, Applications, Products and Price?  This article will give you complete details about MS Office 365 and its versions.
What is MS Office 365?
Most people think that MS Office 365 is same as Microsoft Office and its applications. Office 365 is a subscription plan wherein you can get access to various Office applications, products, and services. The plans are beneficial for both home and business use.
What are the Office 365 plans included?
Office 365 has plans for personal use, Business purpose, and Students or teachers.
Personal plans
You may also purchase a plan that's safe for personal use such as getting access to Microsoft PowerPoint and other Office applications. Plus, you can access to some of its premium features intended for tablet or computer. Other plans like business premium, business essentials, midsize business, and ProPlus are all designed for business use.
Office 365 Business plans
Most of the programs offered by Office 365 are usable for businesses of any industry. Some of the services include Skype for web conferencing, online storage, hosted email services such as Exchange Online, etc. There are also plans designed for Office applications like OneNote, Word, Publisher, PowerPoint, Excel, Access and Outlook that you can install to various devices and computer. Once you have the update Office 365, you will surely get the most of its plans and applications.
One thing that you should remember about Office 365 plans is that they can be accessed through online only. When you are subscribed to any of the plans, you will be able to make the most of your business. You need to pay the subscription depending on your choice whether per subscription, on a monthly or annually basis.
Price & Discount
Microsoft Office 365 will give you two months free with all annual plans.
Personal plan costs $6.99 per month. If you buy for one year, it will cost you $69.99.
Home plan costs $9.99 per month. One year plan cost $99.99.
Business plan costs from $8.25 per user/month.
Business Premium plan costs from $12.50 per user/month.
Students and teachers get 60% discount. Sometimes it may be more. Microsoft occasionally runs promotional offers. Please check WhatVwants Microsoft discount coupon page for latest offers.
Applications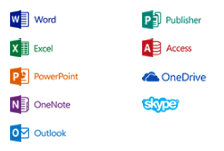 Home and personal licenses will give you above shown apps. Office 365 Students and University plans include only Word, Excel, PowerPoint and OneNote.
One of the products and features of MS 365 is the Outlook. You can create calendar applications, email-related services and a lot more. Included in the Outlook are Outlook Tasks, Outlook Calendar, Outlook Mail and Outlook People.
Other details about Office 365 say about the programs offered including Microsoft Live@edu and Office 365 Education. The former is provided free along with Microsoft applications and amenities designed for educational purposes alone. All your options from Office 365 cater the best for you in this endeavor. You can have the best of your purchase of the product.
When you want to get updated version of the applications, you need to update them manually. In other cases, you may also want to purchase a new version of the product. The updated versions are available for a one-time purchase for Windows and Mac Office 2016.
Office desktop applications for Windows Office 2016 are offered along with the updated versions of those. Software updates run automatically, so you have nothing to worry regarding getting an updated version of the application. Users can also access to Office Mobile perfect for tablets and Smartphones. If you want to edit a document or a file, you can do basic editing for that one.
Features
MS 365 includes a series of products and amenities that seek to offer a manageable online portal to its users. All its components are configured using an online portal. You can add users as many as you can and set up your single sign-on through a local active directory.
Since it is cloud-based service, you can work from any device.
Conclusion
MS Office 365 is a must have subscription package for any organization or home. Any person who uses computer must use office 365.
I think enough details about What is MS Office 365? If you like this article, please share it. If you want more tech. Tips, Please follow whatvwant on Facebook, Google+ and Twitter.